This crunchy pork belly takes a little bit of planning to make.  Most of the work involved is to be done before the marinating process. This is ideal if you are preparing the pork belly for the next day or at least 6 hours before your meal.
I like to make this dish when I know everybody will be eating at the same time, because the crunchy pork belly tastes the best when consumed immediately. There won't be left over no matter how big the belly is.
Ingredients: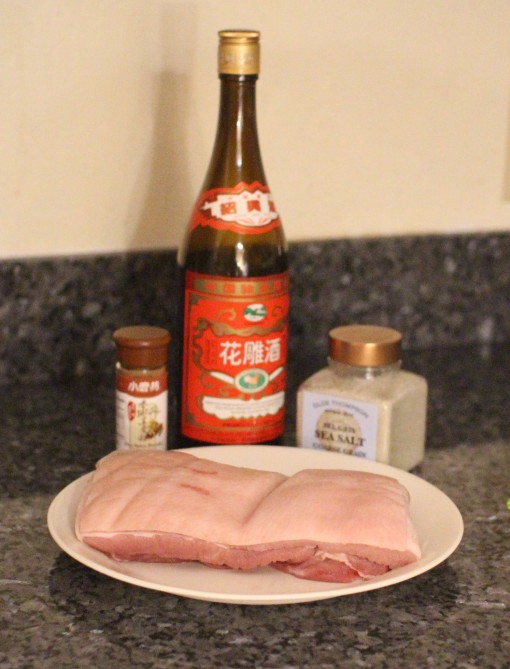 Directions:
Lay the pork belly with the skin down.
Sprinkle salt, pepper and five spice powders on the meaty side.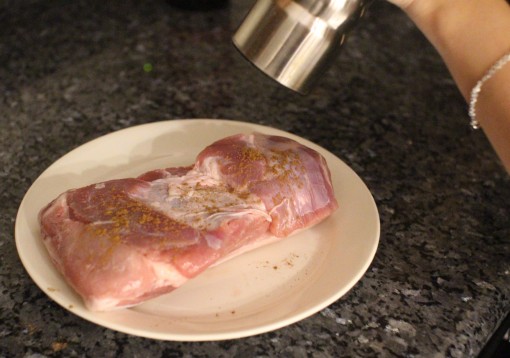 Line a baking pan with aluminum foil and pour enough cooking wine to cover the bottom part.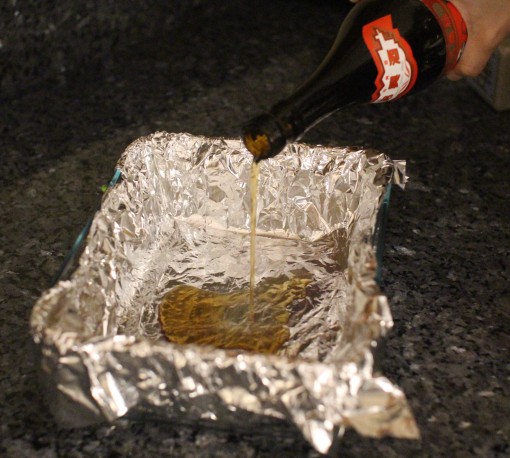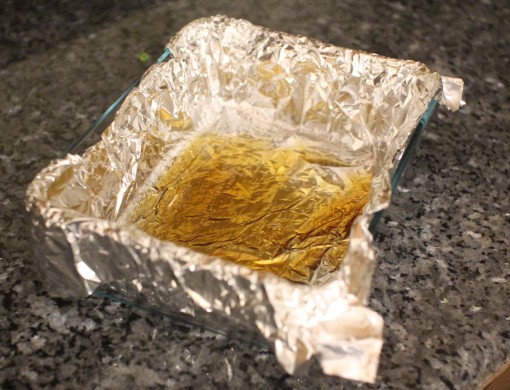 Put the seasoned pork belly into the pan with the skin side up (this way you don't need to rub the cooking wine onto the pork, I don't like touching raw meat so I always find a way around it)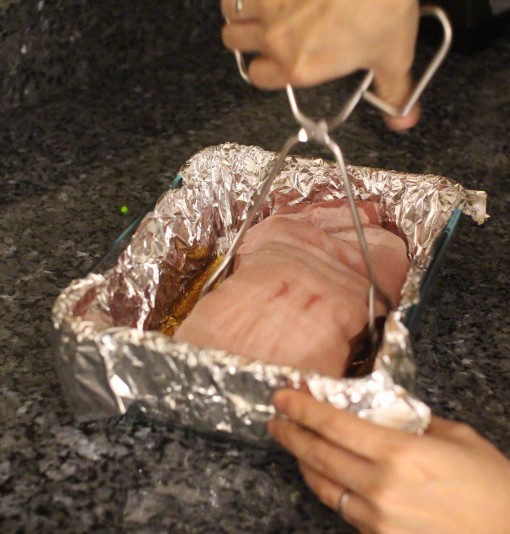 Wrap the foil close to the pork belly but leave the top (skin part) uncovered.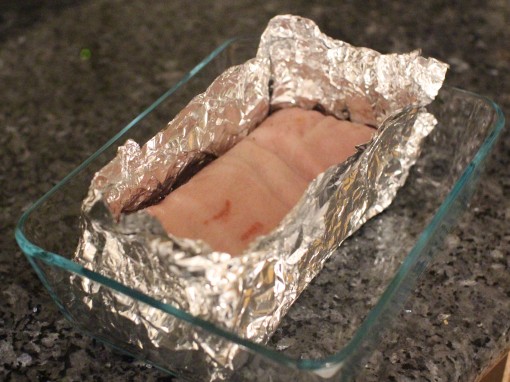 Prick the skin all over with a sharp pointy object. If you want you can use metal skewers, but I'm using my pointy knife. (The more tiny holes you make the better)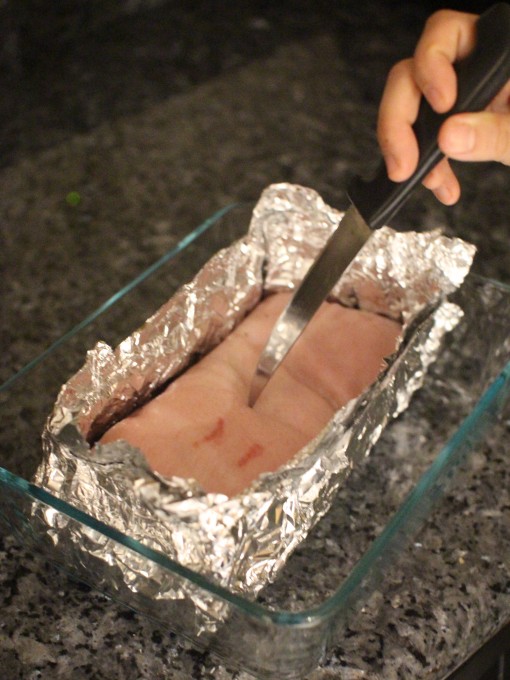 Put it in the refrigerator for several hours or overnight. This step has dual purposes, that is to marinate the meat as well as drying the pork skin so it will be crunchy when we bake it.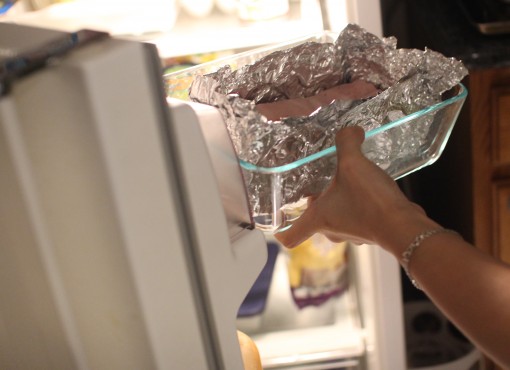 When you are ready to cook it, pour coarse salt over the skin and pack it down.
Bake for 50 – 60 minutes at 400 F, depending on the thickness of your meat.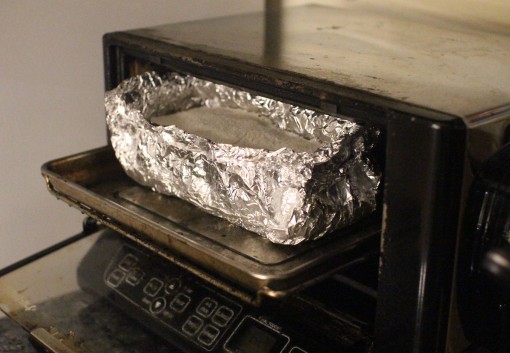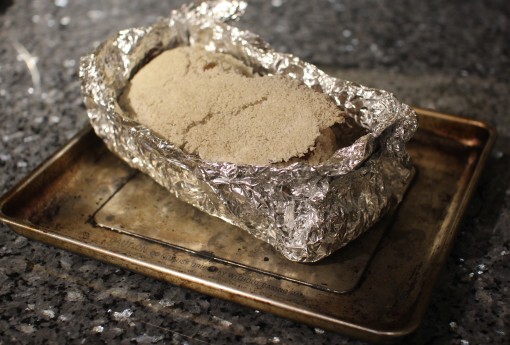 When it is done baking, scrape ALL the salt from the pork belly.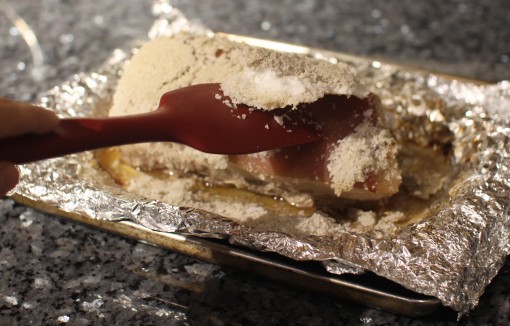 Put the meat on a wire rack and broil it in the oven for 10-15 minutes until the skin is crackling.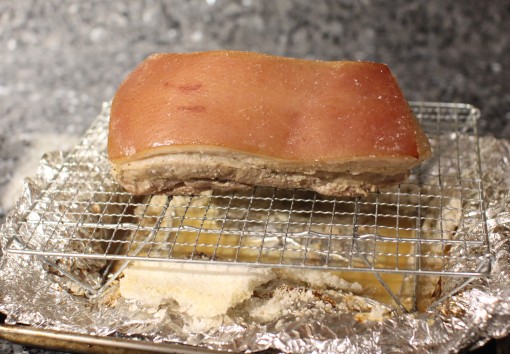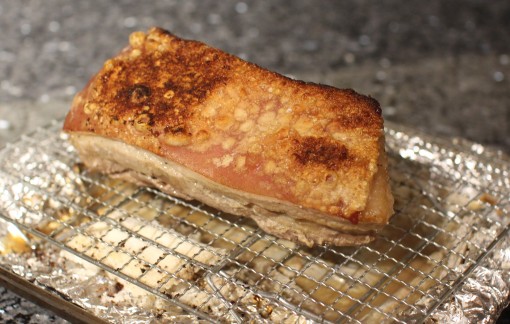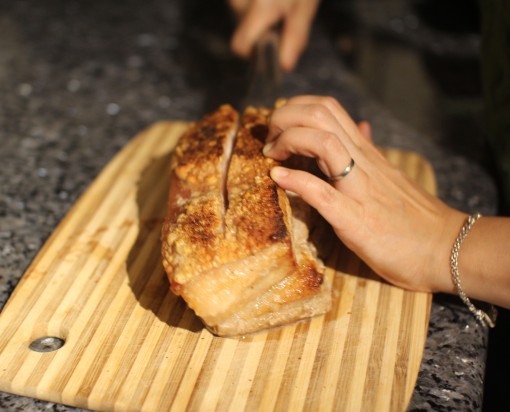 Tips:
To speed up your preparation process, you can gather a bunch of sharp metal skewers and bind them together with rubber bands and use them to prick many holes at once (instead of pricking one hole at a time).